50 Swag Bucks on your birthday!
Just enter your birthday on your Account Details section or for now there is a banner at the top of the homepage that will ask for your birthday. Today is also Mega Swag Buck Friday and you should be able to score more swag bucks than usual.
If you are not already a member of swag bucks you can sign up today with the code
SUMMEROFSWAG
and get an extra 20 swag bucks making a total of 50 swag bucks for signing up (today is the last day the code will work). I like to get $5 Amazon gift cards with my swag bucks since they only cost 450 swag bucks each.
If you are not a member, click on the picture below to join and start earning swag bucks just for searching the internet!
Right now when you buy BORDERS special gift card bundle of 2 $25 gift cards, you get a Bonus FREE $10 gift card and shipping is free. I love shopping at BORDERS and am on their email list so I always get coupons for 40% off.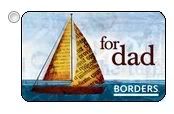 Not Free, but a great coupon:
Quiznos small sub, chips and regular fountain drink for $2.99
Free music downloads from
Amazon
This weeks FREE music and samples at
WalMart
You have to sign up for these, but if you are too late you might be able to go anyway. My local Lowes always has extra kits. The next clinic is this Saturday, June 12th and they will be building a picture frame.