I loved last weeks Penny Pinching Party and all of the fabulous things that everyone is doing to save money. Here are some of my my favorites:
If I featured you, don't forget to grab the "I Was Featured" button on the side bar.
I LOVE this post about
How to Make Foaming Hand Soap
by The Common Cents Home.
I have been doing this for a couple of years, but without the marbles. It really makes your soap go a long way and is a lot more fun for the kids to use. I think I am going to have to put marbles in mine now, because it looks more decorative and will help mix the soap too.
C.R.A.F.T.
shows us how to use recycled gift wrap. I just love how colorful the box is and how she didn't have to buy gift wrap that would just get thrown in the garbage. I looked around her blog and she has a LOT of really great ideas.
She points out that boy's socks are cheaper than women's socks. I laughed at this post because I am always mixing up my 11 year old son's socks with mine when I do laundry. The only difference between our socks is the price. I think I will get my socks in the boy's department next time thanks to Yoli from Apron Senorita.
This is a really great tutorial.
I was so excited that Melody posted this recipe because it can be used in front loading washing machines. I also love that she uses vinegar as a fabric softener (Anyone who knows me, knows I love using vinegar for everything.). You really have to read her entire post, because she has such a great sense of humor.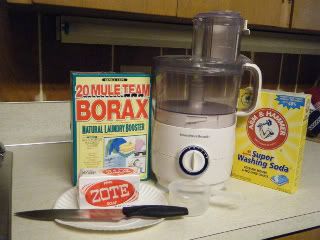 24th Penny Pinching Party!
Rules:
*Add the
permalink
to the specific blog post, not your general blog address.
*
Link back to the party from your post
so everyone can join in the fun!
If you link back to me, I may feature you when I highlight my favorite Penny Pinching ideas next week.
*You have until 1 am am MST, Thursday to get your link up.